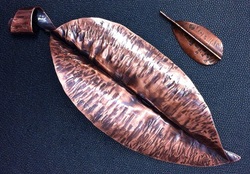 Fold forming is a technique of metalworking in which you fold sheet metal, forge it (form with a hammer), torch it, then unfold it. Depending on your final design, you may repeat these steps multiple times. Because of metal's unique properties it will stretch and compress during this process, yielding wonderful new 3D shapes. One of my favorite fold formed projects, and one of the simplest, is making leaves. You can make many different shapes and sizes using the same basic steps and techniques. For example, the same techniques were used to create both leaves shown here, but the results are quite different. The one on the far left is about 4 inches long and it's main/center vein is tucked behind the leaf. Its shape is asymmetrical, flowing, and sinuous. The one to its right is about an inch long, it's center vein juts forward, and the form is symmetrical.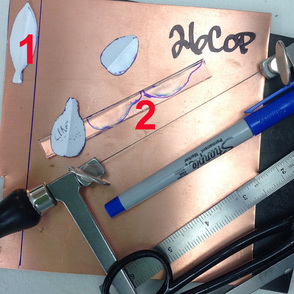 Here's an overview of how I make fold formed leaf earrings. If you want them to match you can create paper patterns like I did here, but freehand cutting yields great designs, too. I'm showing 3 different patterns here to demonstrate how varied you can make them. First I cut strips out of 26 gauge copper. At #1 I've drawn a line just a tad wider than the widest part of the leaf so I know what size to cut the strip. At #2 I've completed that step on another piece, then folded the cut copper strip in half. Then I traced the pattern shape on it (also folded).

The next step is to cut out the leaves. Twenty-six gauge copper sheet is pretty thin so I usually just use metal shears. But with this one I also used a jewelry saw because it has a tricky inside curve that can be hard to navigate cleanly with shears.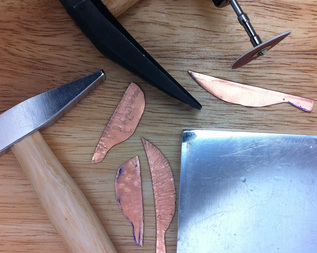 Here I've cut a couple of different shapes and some have been hammered to create the leaf shape that will emerge in the next step. I had trouble getting the light right to show this, but the leaves that look somewhat like swords were hammered with a very narrow hammer head. The shorter leaves have wider blows of a different hammer. Clicking on the picture to see a larger version may make it more clear. You get varied effects depending upon which hammer shape you choose, how hard you hit, at what angle, which edge you hit (the folded or open edge), and how many times. These leaves should be a good demonstration of that when they're finished.

Also shown is a steel block on which I hammer the piece, a couple of typical fold-forming hammers, and the head of a rotary tool with a sanding disk to help smooth sharp cut edges. It's optional at this stage but you'll need to do some edge smoothing before you're finished. Sometimes I wait until the end to clean up a piece but it seems more often I do lots of little cleanups as I go.

Ironically, that's almost always my plan for how I'll work in the studio, too. Just clean as you go, Nancy. Use a tool or material, then put it away. How simple! But it never continues through a whole project. At some point I always stop and look around in stunned silence. How did all that stuff get out, and over there, and over there, and under that? Don't let anyone tell you otherwise, kids. Creating art is NOT always pretty ... or even hygienic I suspect.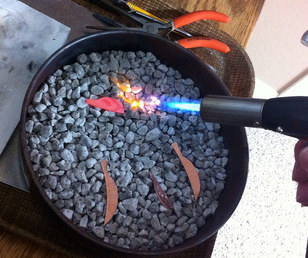 All that hammering work hardens the metal and makes it brittle so it needs to be annealed (heated to soften) before attempting to unfold it. Here you see one leaf that has just reached the lovely red glow of annealing temperature so I'm pulling the torch away. At the bottom are the other three waiting their turn. They quickly cool with a dip in cold water (quenching) and are ready for handling. In their newly malleable state you can pry open the fold. The earlier hammering stretched and textured the metal in such a way that it is pretty easily coaxed into a leaf shape as you unfold. The movement of unfolding and additional hammering hardens the copper again and you have a nice solid leaf ready to be surface finished and, in this case, made into earrings.
The final step for any of my earrings is always attaching argentium sterling silver earring wires. Argentium sterling is more expensive than regular sterling silver but the fact that it doesn't tarnish like traditional sterling makes it worth the extra cost. I switched to silver earwires for copper or bronze earrings, too, because many people seem to have skin problems with non-silver or gold earwires. I discovered that making them slim and quite simple helped insure the silver doesn't detract from the copper or bronze of the jewelry.
Clicking the pictures below will produce close ups of the earrings made for this blog post. Note how each are shaped uniquely and have different numbers and shapes of hammer blows. But the process to create them was essentially the same with only little tweaks at certain steps. I do love how copper moves! While you can fold form many metals (given strong enough tools and arms) copper has the ideal metal moving properties for this technique.
These earrings, along with a number of other new pieces, will be available in my AuSable Designs shop at the
AuSable Artisan Village Gallery
(AAV) this week.
I'll be teaching Fold Forming classes this fall through the AAV Gallery and Art Center. They'll include additional things not detailed in this post along with lots of tips and hands-on practice. The classes will be small (4-5 students max) and held in my Roscommon jewelry studio. You will sign up through the AAV and the fees help support the non-profit center. More information will be available both on this site and the
AAV site
in early fall of 2014.