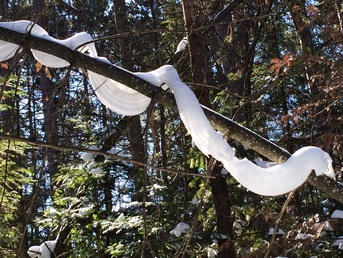 Winter's Comin' & the Almanac Says, a Frozen North
(Sung to the tune of Eli's Comin' by Three Dog Night. You know, "Eli's comin' & the cards say, a broken heart")

I ran across a magical phenomenon in our woods last winter but didn't have a blog to share about it at the time. Now I do so I thought I'd add it in anticipation of the beautiful season to come. (Yes, I've turned into one of those annoying transplants who loves the northern Michigan winter experience!)

In February of 2014 northern Michigan, along with a lot of the rest of the country, was in the middle of a record breaking winter in terms of snow fall and low temperatures. Something in these unique conditions started creating what I've come to think of as "snow ribbons" in our woods. Here's a picture of our most amazing one. You can click on it for a larger view.

People were so very amazed by the picture and nobody seemed to have seen anything like it before. Me too, me too! But then some folks started wondering out loud if I used some kind of techie tricks to create a fake picture. No. I. Did. Not. (Will I ever live down the cat drinking with her new chipmunk friend joke/debacle? Well, perhaps I shouldn't. But remember friends who called me out on Facebook, there was no photo trickery involved there either ... just very poor judgment.)

The video that follows was taken in the same spot a number of days before the still picture so it gives clues about how it evolved. Now I'm not a meteorologist. Heck, I've never even played one on TV. But this is my theory of what may have been happening. As we can see from the first photo, if the sun was out it could filter through the trees and hit this spot. I suspect parts of the snow piled on the branch would start to melt but as cold as it was, it would quickly refreeze as soon as the sun was blocked again. Melting snow and ice droplets are heavier than the fluffy stuff and so they would tend compact the snow and sink down. The increased density caused the whole thing to begin to, for want of better words, sag and stretch, eventually forming this ribbon-like shape. Seeing it change daily reinforced this theory. I suspect we must have had very little wind during this time too. Normally snow is blown out of the trees long before anything like this has a chance to develop. My alternate theory is wood nymphs came out at night with bags of snow icing and decorated the trees.


I noticed several other little ribbons starting to form in the woods through the winter but nothing as large and perfect as this one. Plus its wonderful placement high up between the sun and our trail spotlighted it beautifully.

The Farmers Almanac is predicting another hard winter. I'm choosing to look on the positive side and view it as ideal conditions to see more snow ribbons. If anyone has seen snow ribbons before, or knows what they are really called, I'd love to hear about it in a comment below.