About

I come from a family that enjoyed music and art. We didn't have much, but back then in NYC museums were grand and free so Mother took us often. The 3 King Girls sang merrily the whole way there and back. I'm happy to say I was the only one out of tune and they were a forgiving bunch.

Artistic interests of my younger years were replaced by responsibilities of schooling, career, and life. I started out as a biology teacher then went back for more schooling in technology, ending that phase of my life as the Technology Coordinator for a southeast Michigan school district. It was a job I loved for a long time. While I wasn't producing art, I still got to use my creativity in many ways. Ask any educator.

When the job morphed into something I no longer loved, I was able to take an early retirement. Within a few days my husband and I made the exciting, but scary, move "up north". He grew up in Northern Michigan, Roscommon to be exact. We've had a part time cabin here for over 20 years but for most of that time I never this saw this small town as a place to live all year. We've been here full time since fall of 2008. Life is much different and slower at our lovely cabin in the woods, and we love being here. I can't think of a day when I haven't. Turns out it's exactly what we both needed now. Who'd a thunk?
---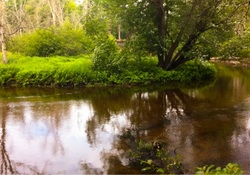 Our woods are located on the South Branch of the AuSable River, hence the name of my jewelry business: AuSable Designs. I spend a lot of time by the river and in our woods. I'm inspired and energized by the nature around me. You'll often see that reflected in the design of my pieces.
I love to take sheet metal or wire then bend, torch, wrap, fold, cut, antique, polish, patina, and hammer, hammer, hammer. Maybe a little more hammering? It's my favorite part so far. I'm always ready to learn new ways to move metal. Each new tool or skill inspires me to branch out in different directions. I guess my new interest has that in common with my old interest, technology. There's always something new to learn.
I also spend a bit of my time involved with a local community-run art center called the AuSable Artisan Village Art Gallery. (No relation to my business. We're both related to the river.) It's where I sell my work and volunteer. Sometimes I work the cash register, or on committees, organize art classes, teach classes, demonstrate my work, help with our many special events, do techie stuff, paint walls, hang art, dust art – whatever. With a totally volunteer-run operation there are lots of opportunities to get involved in worthy and enjoyable projects with like-minded folk. Here's a link to our site:
http://artgalleryaav.org
. I've learned more about my craft from talented metalsmiths I've met there as well. Here are links to the web pages of a couple:
Gary Anthony
, and
Dick Davis
.
---