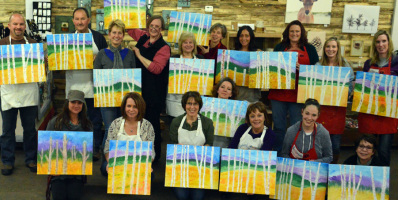 The gallery where I volunteer and sell my work
(AuSable Artisan Village Gallery & Art Center)
has started a very successful series of "Art Uncorked!" classes. We provide the teachers and classroom while our neighbor, Valley Mist Winery, provides wine tasting for our students. So far it's all been painting on various surfaces such as canvas, wine glasses, pottery, etc.
Some time last year I decided that, in the future I would only teach jewelry making in my own studio. I really like small flexible classes. In my own studio I specialize in customizing the teaching to the student, so if he/she shows an interest in working a slightly different way - off we go. That's my idea of fun! But off-site I can't go in a new direction because I'm limited by the (HEAVY METAL!) tools and materials that I haul with me as well as time constraints and class size.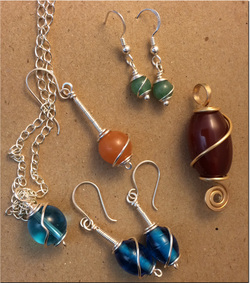 But I've been a student in a couple of Art Uncorked! and seen how much fun they are. The emphasis is having a good time and helping folks with all levels of experience be comfortable with dipping their toes in the world of creativity. It's all about loosening up, diving in, and trying something new.

So I take it back! I wanna play that game, too. I'll still teach the more in-depth things in my own studio but I'm looking forward to this new perspective. I'm developing projects that use as few tools as possible, use inexpensive materials, and look like they take a bit of skill but are actually surprisingly simple. Those are the kind of things I gravitated to when I first started learning myself. If all goes well newbies should be able to surprise themselves and create something they're proud of while more experienced folks can pick up some new techniques. And of course, we all have a good time. Here's our first project. Students will each make at least one pair of earrings and one pendant using the caged bead technique.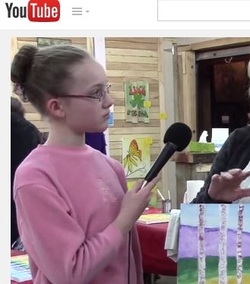 A local home-schooled student, Anna Tomlinson, has been creating a series of video reports on the Arts in Grayling. She and her family are often in the gallery. Her latest video focuses on the AAV Art Uncorked! classes. I'm adding a
link to it here
because it's got relevant information, but even more so because I'm so impressed with the projects being created by this bright young student. You go girl! You can see the other videos in her series on that page as well.
If you'll be in the area on April 28th, you might want to join us for jewelry making and wine tasting. You can find out more about the class and/or register by going
here
. In fact, Art Uncorked! classes of various types are offered almost every Saturday. You can check the
AAV calendar
to see what's scheduled. New classes are posted regularly. A significant portion of the Art Uncorked! proceeds goes directly to our all-volunteer, non-profit AAV Art Center so it's a great way to support the arts in northern Michigan.