Welcome to AuSable Designs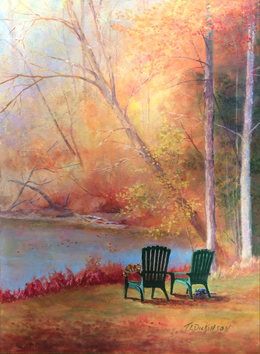 I'm a recovering techno-geek, thriving nature geek, jewelry designer, and metalsmith living in the woods of Northern Michigan along the South Branch of the AuSable River.
The style of metal work I'm drawn to, and now try to create, may be described as handcrafted, artisan, and organic. I never quite knew how to categorize it, but recently I tried Googling images of jewelry and those three terms. Up popped a lot of jewelry and other metal work that made my little heart go pitter patter. Seriously, that's what this kind of metal work does for me. And that's a gift. And that's why I'm doing this now. I've named my new business AuSable Designs.
And because I'm just a recovering, as opposed to a former, techno-geek I decided to put information about this phase of my journey on a web site. It's very much a work in progress and more sections will be added or changed as I progress. Thanks for visiting.
Oh, the picture to the left? It's
Terry Dickinson
's
painting of our view of the river in the fall.
The husband and I have logged many hours in those two chairs. If you click on the picture you'll see a larger version, and you just may find our two cats.
Terry is a talented artist, a family friend, and
Director of the
AuSable Artisan Village Gallery
where I sell my work.
---
---